Transition Survey
St. Joseph's Episcopal Church
Buena Park, California

Transition Survey
July 22, 2018

The congregation of St. Joseph's Episcopal Church is engaged in a "Transition" period with the announcement by the current priest, The Rev. Canon Mary P. Trainor of her retirement effective December 31, 2018. With the assistance of The Episcopal Diocese of Los Angeles, and the Diocesan office of The Rev. Canon Joanna Satorius, the St. Joseph's Vestry is implementing the various steps required to establish a profile of St. Joseph's membership. Among the required activities is to have the membership complete a survey adapted from a template provided by the office of The Rev. Canon Joanna Satorius.
Process used to create a St. Joseph's Survey
Two committees were formed. The first group was charged with designing a St. Joseph's survey by selecting form the Diocesan Survey Template, the questions that best represent the St. Joseph's church membership. That committee was comprised of: Janeane Dimpel, Sandy Herron, Nancy Hopkins and Patricia Jebens. The second committee was charged with organizing, and analyzing and reporting the St. Joseph's survey data. The committee included Janeane Dimpel, Patricia Jebens, Birgit Tedford and Jennifer Turner. Janeane Dimpel and Jennifer Turner were appointed to do the analysis and the final Report of Findings. A copy of the St. Joseph's survey is included in the appendix of this report.
Structure of the Survey
The survey is composed of three parts: Section One: Characteristics of this respondent. Section Two: The Ministry of our Church, and Section Three: The Ministry of our priest.
Section One, the Characteristics of the Respondent. This section is comprised of eleven questions and was taken directly form the Diocesan Template. The respondent was asked to indicate as follows:
Age
Church attendance pattern and how often
Attendance at mid-week services
Gender
Level of education
Questions related to relationship status; marital, single, divorced or widowed, living with another, and church attendance of that person.
Section one also includes questions about children, their ages, church attendance and participation in church life.
A final question in section one asks about travel time to church.
Section Two, focuses on "The Ministry of our Church." This section is composed of 26 questions selected from the Diocesan Template that best represented the St. Joseph's membership. Within section Two there are sub sections that defines church ministry. First, importance to respondent, and second, the respondent indicates the level of church achievement. The respondents express their point-of-view regarding each item by using a five-point Likert scale (1 low and 5 high). The sub sections are as follows:
Stewardship
Administration
Inter-Church Relations
Quality of Congregational Life
Section Three, is related specifically to The Ministry of our Priest. The survey committee did not modify this section, leaving it fully intact. There are twenty categories from which the respondent checks six aspects of priest's ministry that are important to them.
Final Preparation of the survey
The survey design committee met with The Rev. Canon Mary P. Trainor to share with her the structure of both the Diocesan Survey Template and the design of the St. Joseph's survey to be used by the membership. It was determined at this meeting that all items selected in Section Two were appropriate. Rev. Trainor also agreed that Section One and Three must be left intact as presented on the Diocesan templet. Once approved the survey was taken to the printer where 75 copies were printed and collated. A final review by the priest and Janeane Dimpel determined two important steps. First the survey was to be given in a structured environment and second, that the respondents be given instruction before proceeding to the next section. It was also agreed that each survey should be Coded (numbered) and each section separated by colored paper with the instruction printed on the colored page to "Wait for Further Instructions." This task was handled by Birgit Tedford, church secretary, and completed in time for the Special Service held on July 22, 2018.
Method used to gather data from the Survey
It had been planned in advance that the survey would be given at a special church service to be held in the Parish Hall July 22, 2018, after the church service. This structure meant the membership would remain in place, thus assuring a valid number of participants. There were 41 church members present and surveys given to each of the 41 members. Of that number 38 surveys were completed, two were partially completed, and one was not completed. The discrepancy will be discussed in the data analysis.
Method of Data Analysis
The data from 38 respondents who completed all three sections of the survey were recorded and analyzed by item and then reorganized to give an overall display of the church membership for each section. Sections One and Three include the data from all 40 respondents. The survey not completed was put a side and not included in the overall count.
Three processes were used to assure data from each survey was recorded accurately.
Surveys were organized by code numbers for the purpose of cross reference.
Data entry included using computer Excel spreadsheets formatted to represent the three sections of the St. Joseph's Survey.
Manual tally sheets were formatted to represent the St. Joseph's survey and were used as back up to assure accurate data input and analysis.
Surveys were organized and recorded using the codes affixed to each survey. This allowed the team inputting the data to cross reference the information and check for accuracy. It also allowed the opportunity to cross reference any written comments. The only comments made were from the two respondents who completed Sections One and Three, and those sections were recorded. However, Section Two of both surveys were not completed with the following written comment "could not read the print". Those sections were recorded as zero keeping the overall data input in alignment. There was no comment on the survey that was not completed. That survey was put aside and not included in the survey count.
Report of Findings
The data for this survey will be presented as an overall response by the respondents to each of the items. Graphs will follow at the end of the findings to show comparisons of each item. The data are organized as follows: Section One, Section Two and Section Three.
Section One – Characteristics of respondents
Item 1. Respondents indicated their ages were:
Under 20: 2%, 21-30: 2%, 31–40: 2%, 41-55: 8%, 56-65: 23%, 66-75: 18%, Over 76: 45%

Item 2. Respondents indicated they have attended this church:
Less than 3 years: 10%, 4-10 years: 22%, 11-20 years: 10%, Over 20 years: 58%

Item 3. Respondents indicated they attended services:
Nearly every Sunday: 80%, 2 – 3 times a month: 7%, Once a month: 17%

Item 4. Six (6) out of forty (40) respondents indicated they attended a mid-week service.

Item 5. Twelve (12) respondents marked Male, twenty-eight (28) respondents marked Female.

Item 6. Respondents indicated their level of education extended through:
High school: 20% College: 40% Graduate or professional school: 30% other: 10%

Item 7. Respondents indicated their marital status as:
Married 50% Single 17% Divorced 3% Widowed 30%

Item 8. Seventeen respondents, living with partners, indicated that 12 out of the 17 had partners that were active in this church, 2 were active in another church, and 3 were not active in any church.

Item 9. Respondents were asked to answer three questions regarding any dependents living at home. (One response per family.)
Responses:
(a) Five out of 40 respondents indicated they had dependents living at home. The number of dependents for each age category indicated were:
Under 5yrs: 2 5-12yrs: 1 13-17yrs: 0 17-21yrs: 1 Over 65yrs: 1

(b) Five out of Forty respondents indicated they had children participating in church life. The number of responses for each part of church life are listed:
Church service: yes - 2, no - 3
Sunday school: yes - 0, no - 3
Youth groups: yes - 0, no - 5

(c) 0% responded they had children enrolled in pre-school
Section One – Characteristics
Item 10. When asked about their activity in church life, respondents indicated the following participation:
Attending services only: 3
Attending services and other church functions: 15
Attending services, church functions and working on church programs: 22

Item 11. – Respondents indicated their travel time to church as:
Under 10 minutes: 14 responses 10-20 minutes: 12 responses Over 20 minutes: 14 responses
Report of Findings
Section Two: The Ministry of our church
In this section the respondents were to rate each item using a Likert five-point scale: 1=low and 5=high. The First response was based on – aspects of church ministry that have a level of importance to them. The Second response indicated the present level of church achievement. The data will show an overall comparison of responses to each item. The numerical display of items will change in the Stewardship and Administration sections as a result of selecting questions from the Diocesan template*. After that, all items are presented in numerical order.
*Item numbers skip at #13 to Item #21.
Stewardship
Item 10. Opportunities for lay ministry are given.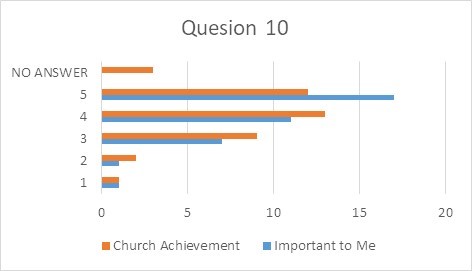 Item 11. Stewardship emphasize time and talent as well treasure.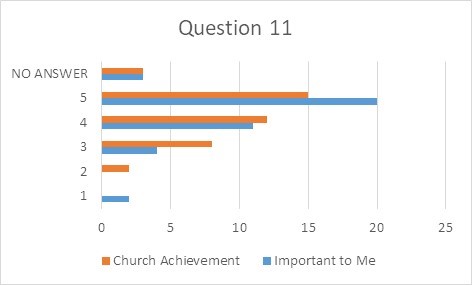 Item 12. The tithe is the minimum standard of giving to God's work.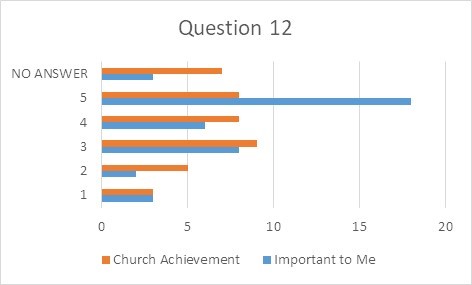 Administration
Item 13. The church and parish hall are maintained in good repair.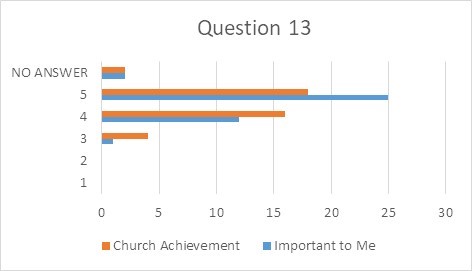 Item 21. The parish newsletter contains current events and reports.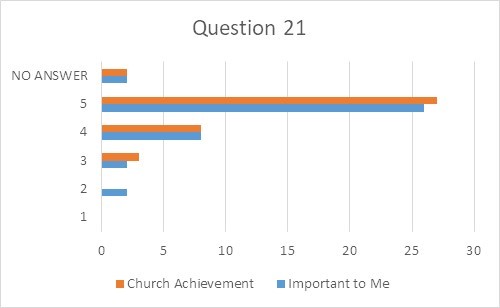 Item 22. The affairs of the parish are handled in a business-like manner.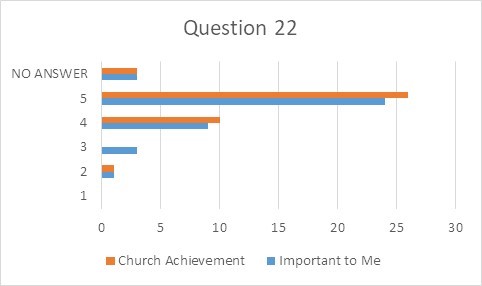 Item 23. The facilities are used extensively by community groups.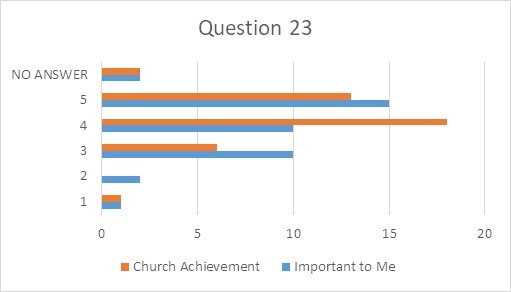 Item 24. The rector and congregation maintain open communication.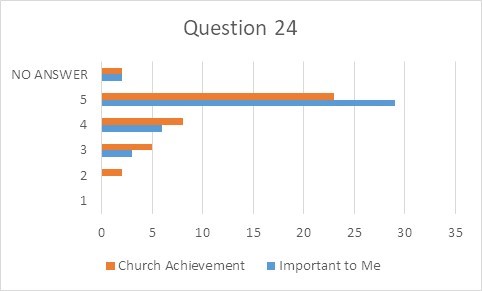 Item 25. The vestry maintains a transparent and open communication with the congregation.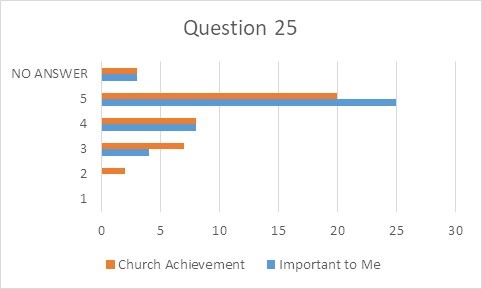 Item 26. Membership growth is encouraged.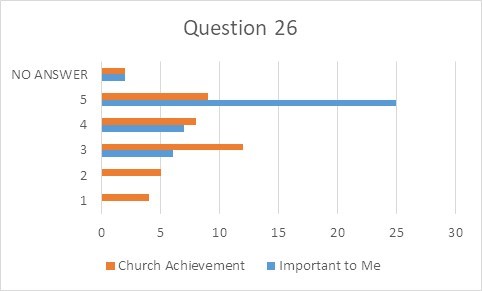 Inter-Church Relations
Item 27. The parish maintains close relationships with the region, the diocese and national church.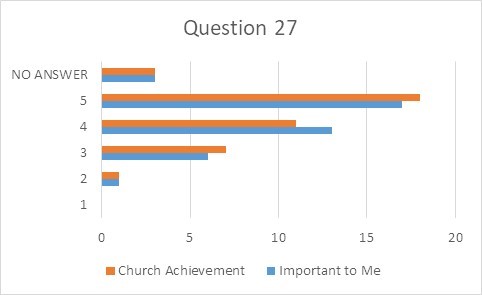 Item 28. The parish maintains a relationship with other denominations in the community.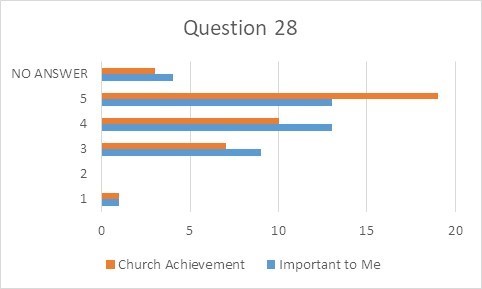 Item 29. The parish maintains a relationship with other Episcopal Churches in the area.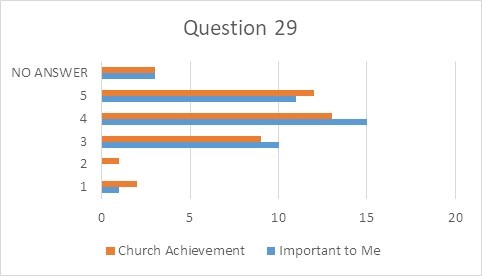 Quality of Congregational Life
Item 30. Members receive ministrations in time of crisis by clergy.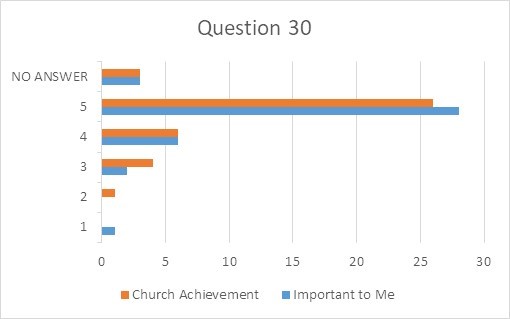 Item 31. Members Receive ministrations in time of crisis by laity.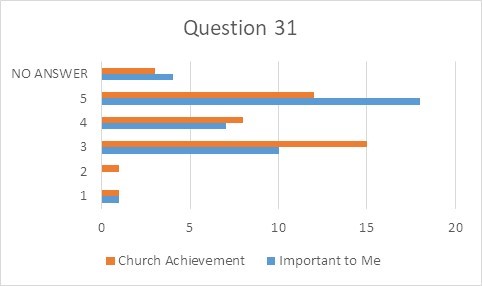 Item 32. A priest is available for pastoral counseling.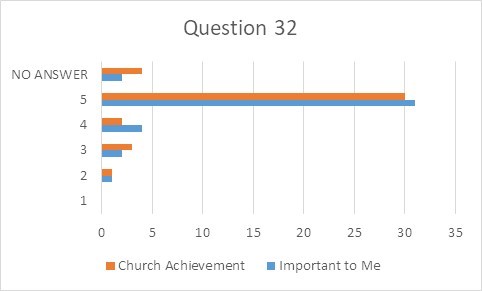 Item 33. Newcomers are welcomed and involved.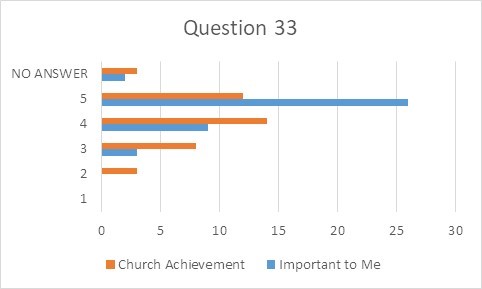 Item 34. The pastoral needs of senior citizens are addressed.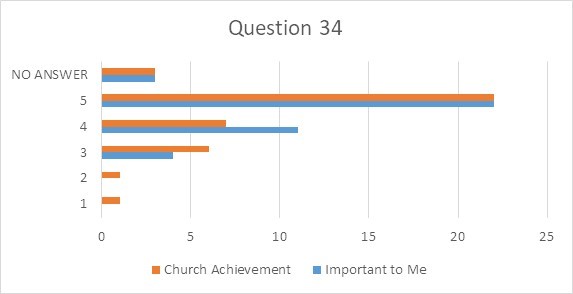 Item 35. The parish organizes and sponsors fellowship activities for all ages.


Item 36. Fellowship is provided for youth.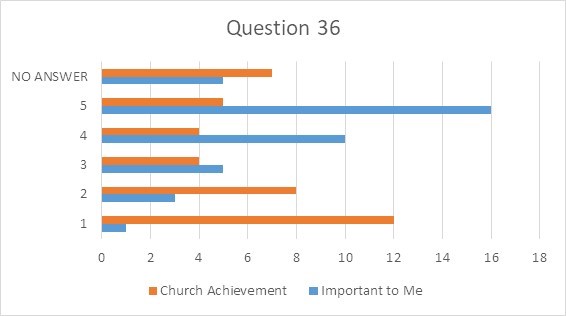 Item 37. The parish ministers to persons in need.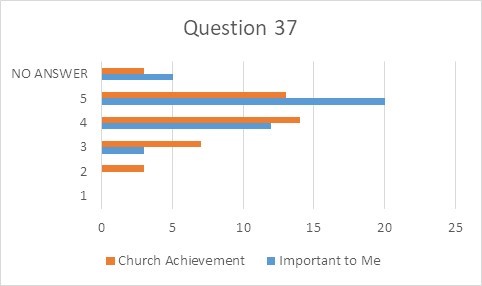 Item 38. The needs of teenagers are addressed.


Item 39. Activities are provided for all youth under 18.


Item 40. Shut-ins are visited on a regular basis.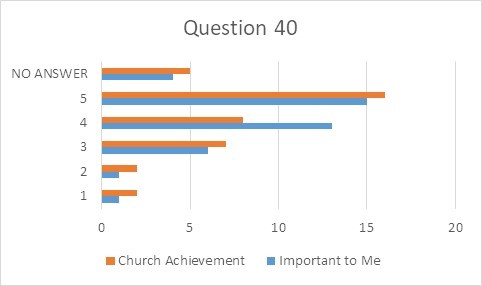 Item 41. Young adults receive adequate encouragement.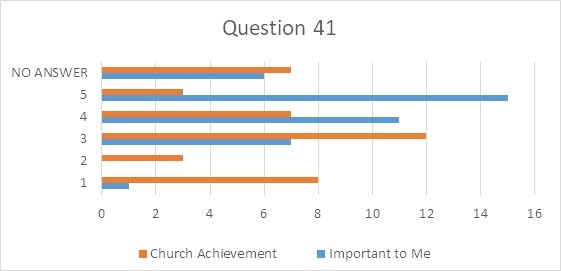 Item 42. The transportation needs of members are addressed.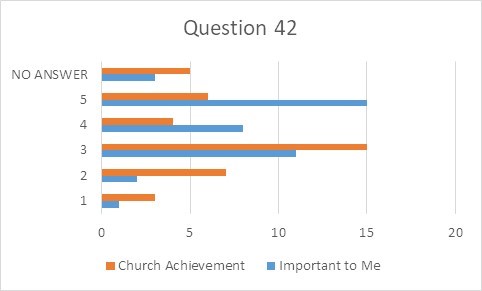 ---
Section Three – The Ministry of our Priest
Twenty categories are used by clergy to designate their pastoral specialties. Respondents were asked to check 6 aspects of priest's ministry that are most important to them. The data are presented in raw score and graph format.
1. 6 responses for Youth work: Ability to inspire youth and incorporate them in the full life and ministry of the church.
2. 17 responses for Teaching: Ability to help persons of all ages understand and live the Christian Faith.
3. 8 responses for Christian Education: Ability to lead in the design and implementation of comprehensive programs of Christian Education.
4. 4 responses for Home Visitation: Ability to provide regular pastoral care through visiting church members in their homes.
5. 15 responses for Pastoral Care: Ability to care for people so that they are nurtured and equipped for growth within the community of faith.
6. 23 responses for Crisis Ministry: Ability to provide pastoral care by responding to people at significant points in their lives, e.g., death, dying, sickness, birth, trauma, success.
7. 9 responses for Counseling: Ability in a counseling setting to assist persons facing problems or decisions. (This specialty should only be used by or for those who are trained and certified.)
8. 23 responses for Administration: Ability to manage the affairs of the congregation, diocese, or other institution, including programs, organizations, finances, etc.
9. 7 responses for Evangelism: Ability to train and lead persons to proclaim by work and section of the Gospel of Jesus Christ, and to invite others into Christian fellowship.
10. 5 responses for Ecumenism: Ability to include programs sponsored inter-denominationally or jointly by a number of churches.
11. 7 responses for Social/community Ministry: Ability to enable persons within the congregation to become aware of and participate in community concerns.
12. 16 responses for Outreach Ministry: Ability to equip and serve the community of faith in ministry to persons in need within and beyond the congregation.
13. 9 responses for Stewardship: Ability to lead in the development and use of individual and congregational resources.
14. 12 responses for Theology: Ability to demonstrate and impart a disciplined understanding of biblical and historical revelation and the perception of God's activity in the world.
15. 30 responses for Preaching: Ability to preach with clarity and to make the Gospel relevant in people's lives.
16. 3 responses for Liturgics: Ability to plan and conduct liturgical services of corporate worship.
17. 9 responses for Music Ministry: Ability to support congregational ministry through music, e.g. lead, inspire, perform, compose, train, coordinate.
18. 12 responses for Spiritual Guidance: Ability to lead and encourage others in the formation and development of a deeper spiritual life.
19. 12 responses for Church Growth/Development: Ability to reshape or restart existing congregations or the plant new congregations.
20. 3 responses for Transition Ministry: Ability to provide trained leadership to congregations or organizations in change or at critical points in their life and ministry.
---
Summary of Findings
The data displayed in Section One pages 4 & 5 describes the characteristics of the congregation of St. Joseph's Episcopal Church. The significant finding was that 45 percent of those taking the survey were 76 years old or older.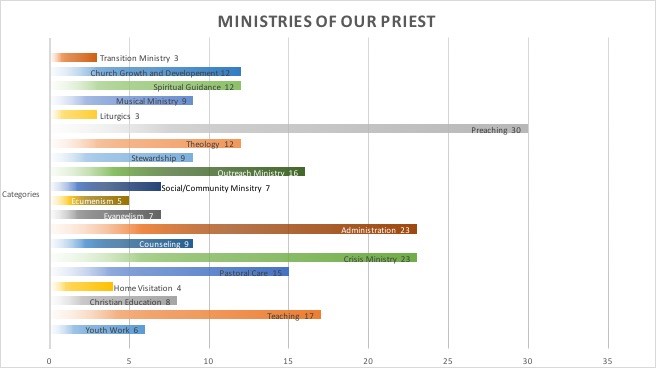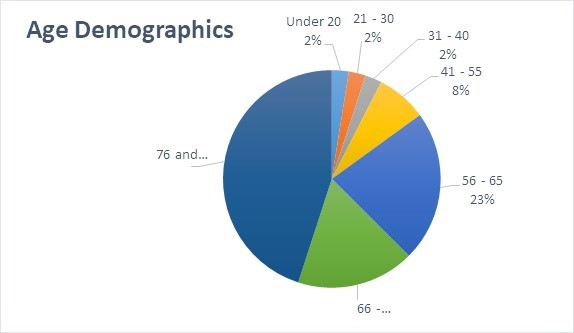 The data for Section Two on pages 6 – 18 indicate that a majority of parishioners are mostly satisfied with the ministries of St. Joseph's Episcopal Church with the exception of Youth Ministries. This is to be expected based on the demographics from Section One.
The data for Section Three on pages 18 – 21 indicate that the three most desired qualities in a priest are their skills in Preaching, Administration of the church, and Crisis Ministry.
The data are displayed by graphs and percentages for ease of analysis and visual representations of relationships between data.