Story Day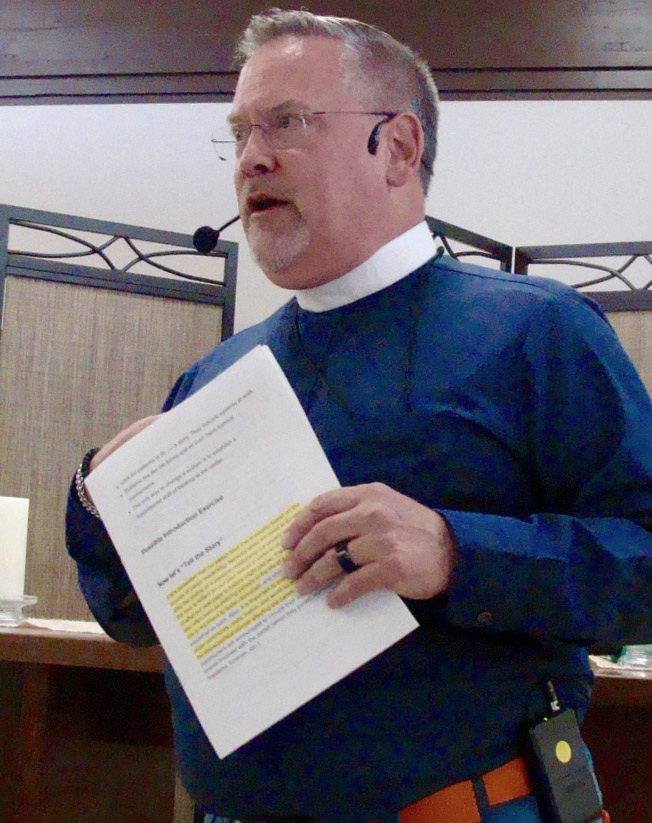 On Sunday, June 3, 2018, we held our 9 a.m. service of Holy Eucharist in the Parish Hall, where we would remain for a Story Day facilitated by the Rev. Tom Quijada-Discavage. Rev. Tom is a member of the Transitions Office staff for the Episcopal Diocese of Los Angeles.

In the weeks preceding Story Day, parishioners brought in photos and other memorabilia from earlier times at the church. These were displayed on the walls of the Parish Hall and were accessible for reference during the actual Story Day session.
Recollections
The community was founded in 1954 as a house church, with the Rev. John Saville as pastor. It was started from St. Michael's, Anaheim. Three years later, in 1957, the Valley View property was dedicated for a church, and The Barn was used as a Parish Hall.

The Church was dedicated prior to August of 1960. General agreement is that there were about 125 members at this time.
At the founding, and beyond
The world in 1954, as reconstructed from the memories of those present: Middle class expansion. Needed to think about other people. Integration in Little Rock. Race began to be acknowledged. More people going to college resulting in a better educated populace. McCarthy-ism. Disneyland was built. Knott's Berry Farm was here. Many young families were living in the area. Aerospace industry. Home development. Polio vaccine was developed.

At one point, curtains were installed across the sanctuary to close it off during social events. Folding chairs would be set up.

In the early days of the church, people recalled it was quite conservative, naming interest the John Birch Society as an example. Some people here were upset that the American flag was the same height as the Episcopal flag. St. Joseph's was more insular at this time than outreaching. Some wondered aloud: Is this a repeat behavior?

At the time of the St, Joseph's dedication, U.S. American society was witnessing historic events: the assassination of President John F. Kennedy and later his brother, Senator Robert Kennedy; the assassination of Martin Luther King Jr.; the civil rights movement; the manned space program; the Cuban missile crisis; the Vietnam war; the Beatles.

Locally, the education building was constructed. Why was this a time of growth for the parish? People agreed: We had a really good Sunday school here. Betty Racich's father was the superintendent.

The parish was very social and spent time together outside of church. There were very dynamic people here at the church – young and energetic people. Congregation was very welcoming and friendly. Professional athletes, entertainment industry personal were members here at the church.
There were two services—8 a.m. and 10 a.m. 8 am was half full and 10am was almost completely filled. 8am was no music and no homily. There were lots of people joining the church and there were revolving dinners to welcome people. A very social period in the life of the church.

Bruce MacPherson, who later became a Bishop in the church. was instrumental in the growth of St. Joseph's at this time.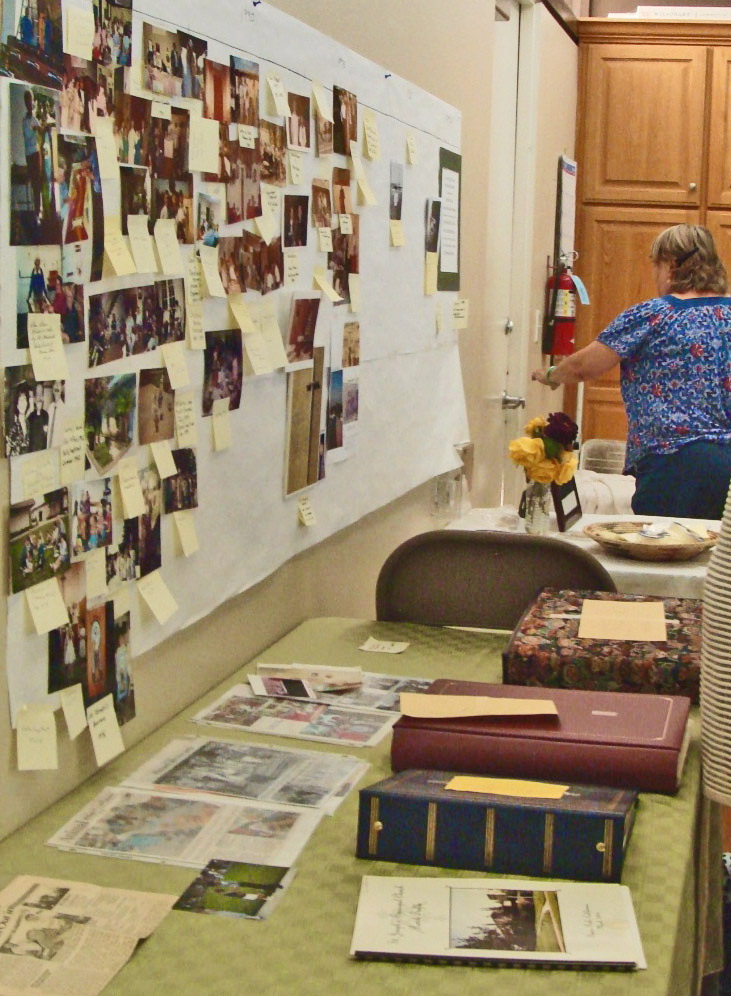 The clergy
A list of priests in charge was developed. Please note that some of the beginning or ending dates are "soft": the Rev. John Gardener served beginning in 1956; then came the Rev. John Quimby, who served until 1962; the Rev. George Detour served from 1962-1969; the Rev. Searcy served from 1969-1975; the Rev. Ed Little followed Fr. Searcy, serving from 1975 until 1986. The next priest was the Rev. Bill Ellington, serving from 1987 until 1990. Then came the Rev. Ed Rouffy, who served from 1992 until 1998 or 1999. There were a couple of interim priests who served prior to the arrival of the next rector, the Rev. Hugo Norro, who was here from 2001 until 2008. He was followed by the Rev. Mary P. Trainor, serving the church as its priest in charge from 2009 until her retirement at the end of 2018.
Becoming a Parish
St. Joseph's became a Parish in 1980, while Fr. Little was the priest. People noted that Fr. Little's tenure was the first significant length of time for a priest to be at St. Joseph's, and during his time the church was thriving: The Church school was very active as there was a large population of children. In this era, worship featured charismatic music. Many participated in Cursillo, Marriage Encounter, and Girls Friendly Society. People recollected that there was a great choir in this time and, because Sunday attendance was thriving, an architect was hired to build a larger church. This, of course, did not happen.
Another sign of vitality in this era was that Outreach, which remains a primary ministry focus of St. Joseph's, was allocated 10 percent of the church budget. This no longer happens, and projects now are funded from congregation donations on a campaign-by-campaign basis.
The 1970s
Father Charles Searcy arrived in 1969 "to close down the church," but instead, it grew, and he served until 1975.

Searcy was a sweet man who saw the good in people. There was a concern about his age that the children would not like him, but the kids loved him. He was credited for saving the church instead of shutting it down.

Fr. Searcy had a great faith and dignity—and people felt that got him through the death of his wife from a car accident on the way to Arizona after he retired.

During this time, Bruce MacPherson said St. Joseph's needed an Outreach Committee, and that ministry began with about 30 people meeting with Nancy Hopkins.

Society at this time of the early 1970s? It was Hippies and Jesus Christ Superstar.
Declining membership
In the late 1980s, membership began to dwindle during the tenure of Fr. Bill Ellington, who left after a fairly short tenure. His departure was followed by two years of search, during which time more people left.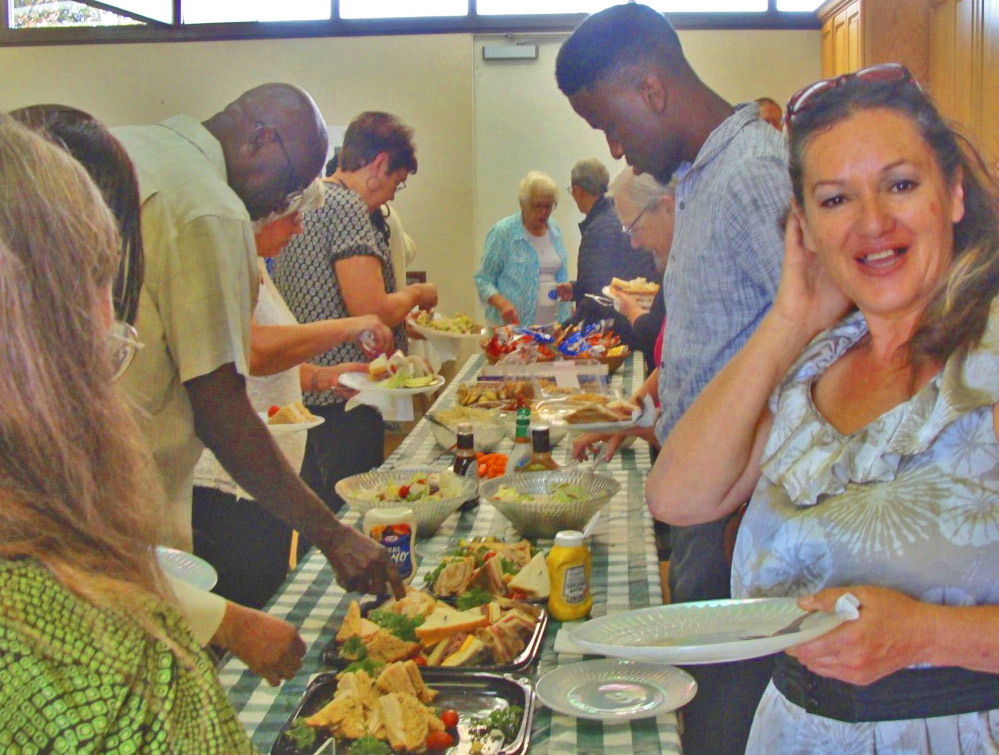 Recession & change
Father Ed Rouffy served as rector from 1992 to 1998 or 1999, in a time of recession. The defense industry, previously a big local employer, began moving out of Orange County.

Despite that decline, St. Joseph's added lots of new programs during this time, including Catechesis of the Good Shepherd and Faithful Families.

There was some division in the congregation—half wanted to build a new church, half did not. In hindsight, members say now, it was a blessing.

Fr. Rouffy retired because he was ill.

Two interims spanned the time between him and the next rector, the Rev. Hugo Norro, served from 2001 to 2008.

Members noted that the early 2000s was a time of polarization in society—conservatives vs. liberals—and some this played out in churches, too.
More recent times
Fr. Norro left in the spring of 2008. An interim—Fr. Doug McKinney--served for a few months before leaving for health reasons. Rev. Mary Trainor, the vicar of St. Stephen's, Whittier, began to help out as a Sunday supply priest, and helped coordinate other supply clergy for the parish. In time, the Rev. Canon Joanna Satorius proposed the idea of yoking the two congregations—St. Joseph's and St. Stephen's—and in May 2009, Rev. Trainor was named priest in charge by Bishop J. Jon Bruno, and served until her retirement in December 2018.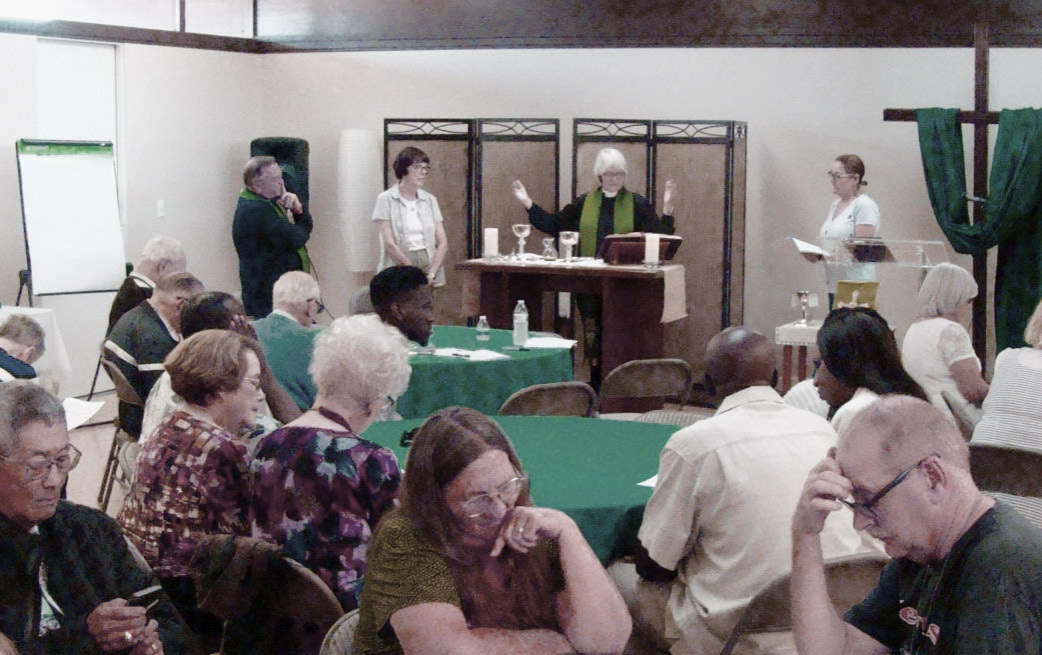 The yoking and the coming together
People noted that the yoking of the churches happened smoothly because of Rev. Mary. Both churches felt blessed by Rev. Mary's arrival and feel as if she saved both churches. She has not allowed our differences to keep us apart, and made sure that we continued to love each other as Christians. Outreach stretched with her encouragement, for example, the Cafeteria plan. She also pushed us to be known in the community.

Another positive thing is that Rev. Mary does not get into politics, which has been a plus in this diverse community. We get together and politics does not become a part of it. Rev. Mary has helped people open their minds and be willing to explore new ideas and activities. She helped us move into the community more.

The 2016 closing St. Stephen's was heart-wrenching. Coming to St. Joseph's, they felt welcomed and it was easier because Rev. Mary was here. One of the ways that the two churches began working together was fund raisers and the Blessing of the Animals.

Other accomplishments since the two parishes became yoked, and then united: Education for Ministry; Memorial Garden; Renovation of the Parish Hall; Senior Housing development in the future; Lavender Tea; Xerophytic garden; Parish Picnic.

The future--what we want to continue: We are known for our Outreach and it would be nice to continue this in the future; Ministry partnerships with other churches and the city; the Guitar Orchestra; Relationships that add vitality and life to this place; the Pet Food Pantry ministry; the music ministry and special musicians for services; maintaining programs – book club, movie nights, Maundy Thursday, All Souls' etc.; the Orchard.

What would we like to see continue and/or grow: Biblically based sermons; bring in younger members/families if this church is going to survive; community garden; concerts in the park; services that are later in the day; maybe services that are not so structured and traditional.

In the culture during this period we saw the introduction of the iPhone and the increased use of technology, which contributed to a change in social connections. We saw the rise of the mega-church and nontraditional services and casual dress. This era also witnessed an increase in over-scheduled families.